The New Scratchboard, Clay-Surface Techniques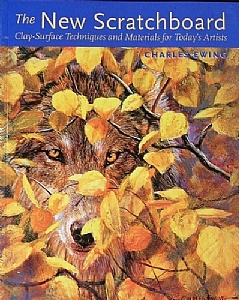 This book, published by Watson-Guptill in 2001, brings the reader up to date on the 'state of the art' of clay surface art techniques. Beginning with various artists working with the traditional scratchboard on cardboard-backed clay surface and moving into the new surfaces invented and patented by Mr. Ewing. Charles amply illustrates three fine art techniques on the new surface including India Ink on Clay with a portrait and a piece with horses, and an acrylic piece in color. In addition, he covers several very interesting printmaking techniques using the Claybord Surface including monoprints, intaglio, relief printing and lithography.
The book is now out of print. It may yet be found and purchased in major bookstores nationwide. Another edition is under consideration.